Many industries rely on barges for storage and delivery of equipment and supplies, as well as for use as floating work platforms. This is especially important in handling offshore reefer containers as these are heavy objects that require en-route monitoring to ensure reefer containers are in optimum operating conditions to best manage food and perishables in order to reduce food spoilage. 
Reduced food spoilage = Reduced Carbon Footprint = Better Savings for Caterers and Platform Operators = Better Profitablity for Everyone. 
Reduced barge incidents = Better Employee Safety = Reduced En-route Incident Risks 
Barge incidents involving injuries to crew members and property damage are not rare, but they may often be avoided by following the right safety measures.
Here are some tips for individuals operating on barges based on their safety advice.
Inspection of barges for Offshore Reefer Container
A barge should be examined for leaks before being filled or emptied.
If any equipment on a barge is considered dangerous or in need of repair, it should be removed immediately until additional inspections are completed.
Inspection results should be meticulously documented, and inspection reports should be kept in a secure area onboard a barge so that crew members can refer to them if necessary.
If a barge is found to be hazardous or not in proper operating condition during an inspection, it should be pulled out of service and not utilised until all safety problems have been resolved and all necessary repairs have been completed.
All goods should be safely kept at all times, and barges should be examined regularly to verify that materials are in their correct locations.
All equipment used on a barge should be examined on a regular basis, according to the manufacturer's recommendations.
Preparation of barges
On a regular basis, all crew members should complete necessary safety training that includes both barge safety and safety-related to their individual job tasks.
If a barge isn't self-propelled, it's a good idea to keep a pull boat, tug boat, or similar watercraft nearby in case the barge has to be moved quickly.
Employees should be thoroughly informed of the conditions under which a barge must be transferred to a more protective place based on tide/river gauge readings as part of disaster planning. If a barge isn't self-propelled, a strategy should be in place to transport it using a self-propelled vessel such as a tug boat or a pull boat.
In the case of a hurricane, tropical storm, flood, or other weather catastrophes, a disaster preparation plan should be in place to ensure that personnel and property are protected.
Employees should be familiar with the location of any deck openings and hatches.
Employees should be made aware of the location of all safety devices aboard the barge. Regular stock inspections of safety equipment should be done to verify that all required equipment is available to crew members. If safety equipment is destroyed, it should be replaced as soon as possible.
Barge decks should be well-organized, and any equipment or supplies that aren't in use should be neatly kept.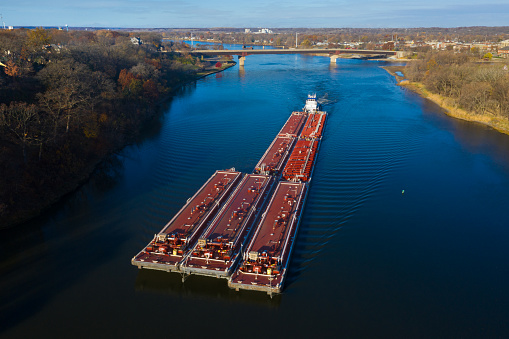 How to reduce risk and increase safety for barges carrying offshore reefer containers
Precaution during severe weather
Floating equipment are at risk from severe weather, therefore, preparations should be established for removing or securing the equipment as well as crew evacuation in the event of an emergency.
Here are the preparations in case of such events.
Floating equipment must be relocated away from dams or river structures to safe places based on river/tide gauge readings.
The name of the vessel as well as the type, speed, capacity and availability that will be used to move any non-self-propelled equipment.
The secure location's name and address.
The time period for putting the plan into action, including the projected time it will take to transfer the equipment to the safe harbour once it has started.
A description of the types of severe weather hazards that the equipment may potentially be exposed to, as well as the precautions that will be taken to avoid them.
Securing unmoved equipment
Extended movement of floating boats and tow should be preceded by a competent person evaluating weather reports and circumstances to ensure that the vessel and tow can be moved safely.
Work or task instructions should be preceded by a responsible person evaluating weather reports and circumstances to ensure that safe working conditions and personnel shelter are guaranteed.
During severe weather circumstances, a sufficient number of powered vessels of appropriate size and horsepower, each built, furnished, and equipped for towing operations, should be available at all times to move both self and nonself propelled vessels against tides, currents, and winds.
Plans in case of emergencies
Fire, sinking, floods, extreme weather, man overboard, and hazardous material accidents should all be addressed in emergency plans.
A station bill should be created and posted in visible areas around the vessel, detailing the particular tasks and duty station of each crew member in the event of an emergency.
Equipment requirements for Offshore Reefer Container Barge
Fenders should be supplied to avoid damage and sparking, as well as to offer safe places for employees who may be pressed against floating equipment.
Axes or other emergency cutting equipment, such as releasing lines, should be sharp and readily available aboard all towing vessels.
Other floating boats should have emergency cutting tools in easily accessible locations.
All vessels should be equipped with signal devices to deliver the signals needed by the navigation regulations in effect in the seas where the vessel is operating.
Conclusion
In conclusion, we have discussed the inspection and preparation of barges related to offshore reefer container transportation.
We also discussed how to reduce risk and increase safety for barges which include precaution during severe weather, securing unmoved equipment, plan in case of an emergency and equipment requirements.
These are some common questions on barge safety.
Business Director
A graduate (Business) from KDU, Jason Tan, is the current Business Director (Sales) for MGS Icestorm and has been associated with the company for the past 10 years.
With over 13 years in the shipping industry, he has had a significant contribution to Malaysia's oil and gas industry in the engine and boat supply sector.
His expertise includes managing offshore catering business, offshore reefer containers, AI technology, offshore gas tanks, A60 pressurized cabins, etc. His contributions have helped establish MGS, in partnership (joint venture) with Thermo King and Honeywell to produce state of art Offshore Reefer Container products.